CAE Use of English Exam Format
Revising the CAE Use of English Exam Format will be hugely beneficial. If you can't remember or didn't read the last page and you want to revise what to expect in the exam, you should watch the video below...(watch till the end for an extra CAE exam tip).


Task
If you have followed this CAE course until now, you will already have learnt and practised the second part of the CAE listening paper. You should remember that that task comprises a passage with 8 blanks in it. I would like you to complete a similar exercise in the photo below. Why? Because you'll be simultaneously revising what you now know about the Reading and Use of English paper. You'll be killing 2 birds with 1 stone. So...
1. Take 45 seconds to read the passage below.
2. Listen to the dictation video below the passage (in part 2 of the listening paper the listening passage will be a lot quicker and shorter)
3. Write down your answers on a separate sheet of paper.
4. Compare your answers with the answers below the video.
Here is the passage: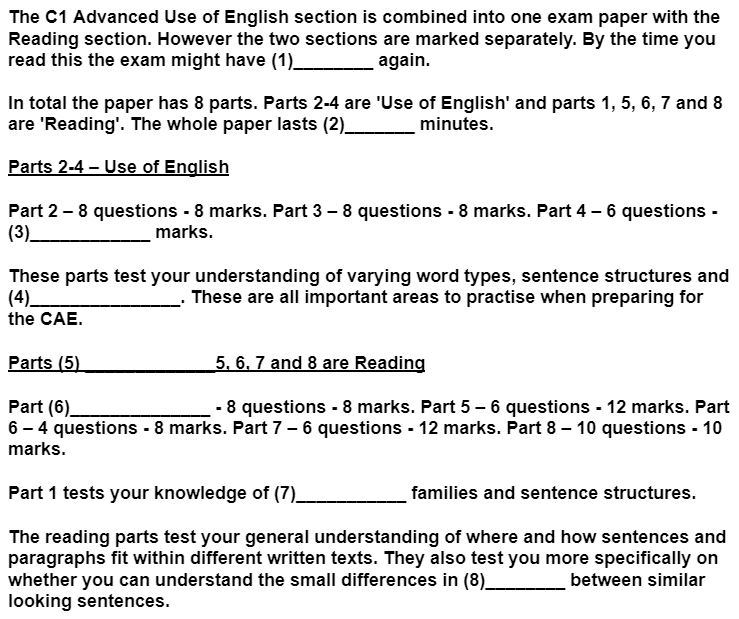 Answers
UPDATED
90 / NINETY
12 / TWELVE
COLLOCATIONS
1 / ONE
1/ ONE 
WORD
MEANING
Learning the format of each exam paper in the
CAE exam
is one of the fundamental steps in my strategy. If you want to see the format of the other exam papers, check out
this page
.
Did you enjoy this page?