CAE Listening Part 3
The CAE Listening Part 3 is the third part of the C1 Advanced exam listening paper. There are 4 parts of the listening paper in total and you need to achieve a score of 18 out of 30 to pass this exam paper. This means you need a minimum of 4.5 in each of the 4 parts, but because you cannot get half marks, I advise aiming for a minimum of 5 or 6 correct answers in each part.
If you want to know more about how to calculate your C1 Advanced score, check out my CAE exam page.
CAE Listening Tip: Gold members only. Register >>
Do you already have a CAE book? Write the name of the book in the comments section below and say if you like it or not. This information will be really useful advice for other students!
If you want to practise your general listening skills more, I advise listening to this book with audible. At the moment they are offering it for free with a 30 day trial.
At the moment, you can access this folder which has over 10 different CAE books in pdf format, ready for you to download.
https://drive.google.com/drive/folders/0B492gzcyd_aGdUMtdTY1RDNmM1k
Okay, so let's get cracking with the next dictation video.
CAE Speaking Tip: Gold members only. Register >>
CAE Listening Part 3 – Dictation
If you have read other pages on my website, you know how very important it is to understand and be able to use a technique for every part of this exam. On the rest of this page, I will show you the format and then teach you the best technique to successfully pass this part of the exam, which is a multiple choice task. We are going to use our time efficiently and learn these while also improving our general English skills with a dictation exercise. There will be a writing question for you to complete at the end of the video for you….
You can write down your dictation on my online dictation worksheet. Remember, there is a CAE writing question at the end and you'll also be able to check your writing below the video 😉
Below is the script for the dictation. You should check to see how many mistakes you made and write them down on this worksheet >>
If you cannot find where to write these mistakes and how to edit and use the worksheet, go back to the beginning of this CAE course and follow the correct order of the pages:
"Format
In part 3 of the Listening paper you have six multiple choice (a,b,c,d) questions. 
This is normally an interview or a conversation between 2 different people. 
You do not need to listen for specific words in this section. However, you do need to identify the most important information and understand the speakers' opinions. 
Technique
You have 70 seconds to read all the questions before the recording begins. Read the questions and underline the most important words. Think about the differences between a,b,c,d as they might not be obvious.

On the first listening, indicate the correct answer.

Confirm your thoughts the second time you listen. 
Question: Review
You see this announcement on the Cambridge English website. 
Reviews wanted
Send us a review of part 3 of the CAE Listening paper. Your review should include:
Why you think it is important to test student's listening skills.
How you found the Listening paper in the exam.
How the Listening paper could be improved.
Write your answer in 220-260 words."
CAE Listening Part 3 – Practice
I'm going to put a picture below of the passage above, but it will be separated into 4 parts.
You should try to answer the following 10 questions.
Questions
Which part of the passage below suggests:
There are 70 seconds to read before the recording begins.
Put a mark next to the correct answer when listening the first time.
There are six questions.
Come to a decision after the second listening.
Find differences in meaning between the options.
You listen to the recording twice.
Indicate the important words.
You don't need to listen for individual words.
There are 4 multiple choice options.
The differences between the options are not always clear.
Passage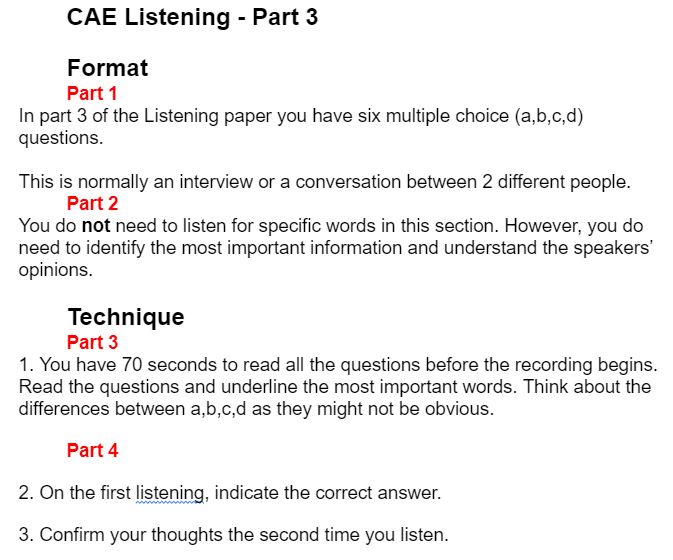 ---
---
Answers
3
4
1
4
3
4
3
2
1
3
This is the same type of exercise you will have to complete in part 8 of the CAE Reading paper. We will have a look at that later in this CAE course.
CAE Listening Part 3 – Revision and Extra Practice
In part 3, you listen to a passage and answer 6 multiple-choice questions. It will look like this: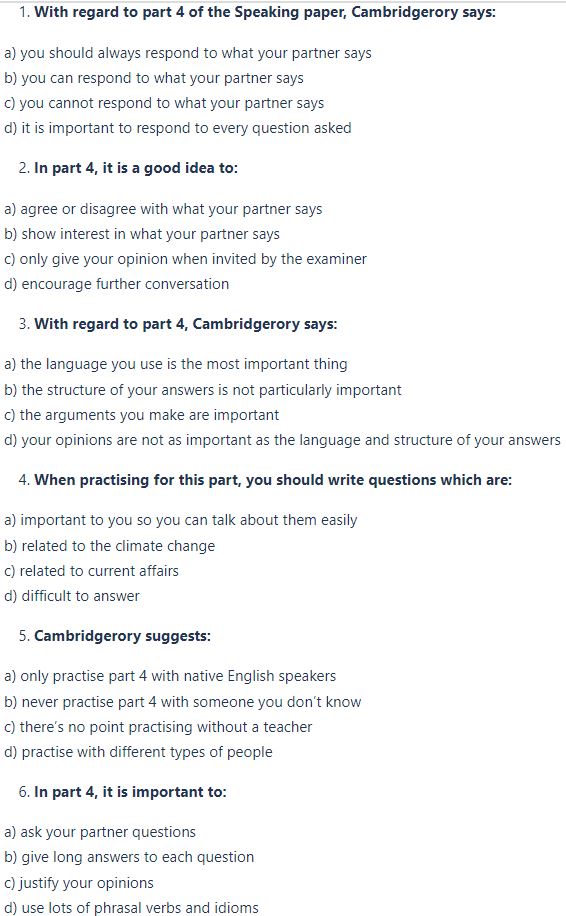 ---
Watch the video below. It is an older version of the technique I teach above, however, the information is still relevant and very useful. It also shows you how to access a sample paper which you can practice with (links below the video).
You should write down the 4 steps from the technique below and compare them to the technique above. This will help you consolidate your understanding and even test which technique works best for you! There is a homework exercise at the end of the video too!
When you become a higher-level member, the photo below will turn into a video – I want to see that cool magic trick >>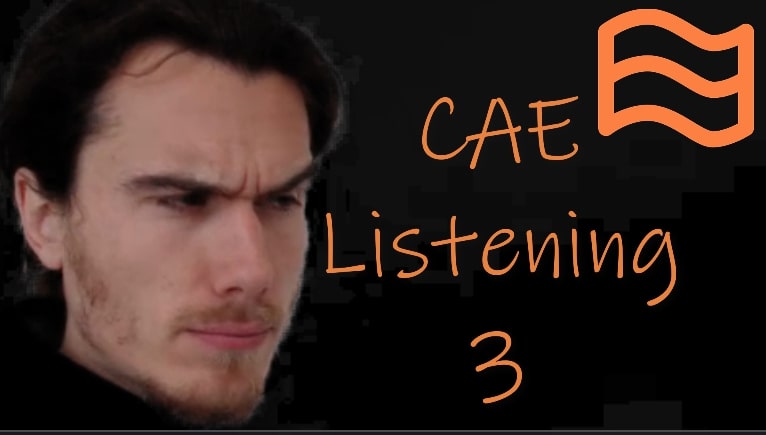 Handbook for Teachers
CAE Listening Questions
CAE Listening Part 3 Audio File
Listening Answer Key – page 2
The links above are available for members only. Find out more about memberships here >>
---
Did you enjoy this page?
or
If you want to access the 'Next Page >>' and other links below…
Become a Gold member here >>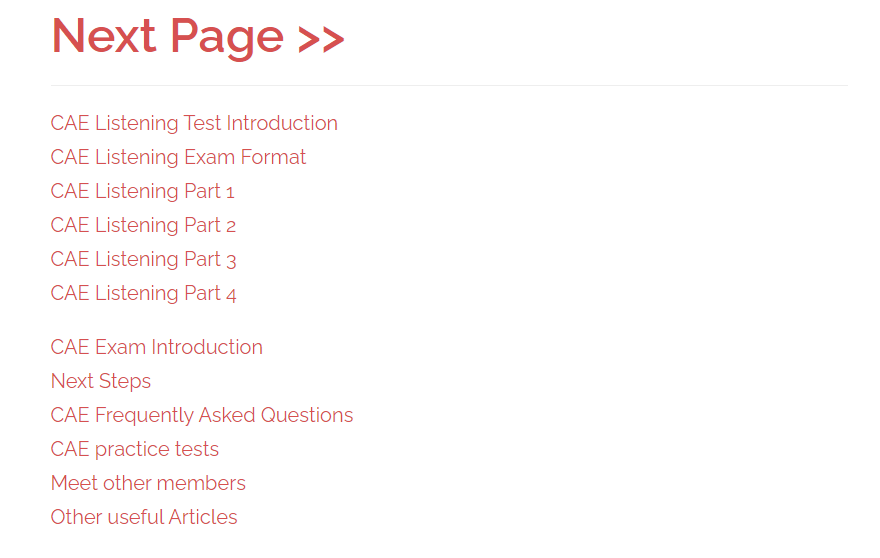 As a higher-level member you can also discuss all your problems in my exclusive Facebook group, practise speaking exercises etc. in my Telegram groups and more.