CAE Listening Part 2
The CAE Listening Part 2 is the second part in the C1 Advanced exam listening paper. The exercise involves one long passage and filling in the blanks. There are a few important steps which students should know in order to pass this part of the exam.
I'll show you the best way to complete this task, but before I do, write a comment below telling me which English accent you find hardest to understand. If you say 'Scottish' for example, I can find more samples to help you with that specific accent.
Do you know where this picture was taken?
It's from Scotland!
The home of 'Braveheart'. Maybe you've heard of 'William Wallace'? He was played by Mel Gibson in the film 'Braveheart'. Mel is American actor but he lived in Australia for a while.
Can you hear the difference between American, Australian and Scottish accents? You may hear all three accents and more in the CAE exam, so you should practise listening to all three.
That is why the CAE Listening tip I told you on my CAE listening part 1 page is extra useful! Listen to different accents speaking in English. An easy way to practise is with a 30 day free trial of audible. Sign up and listen to my book of dictations for C1 Advanced here: https://studentlanguages.com/c1ornotc1audiobook/
CAE Listening Part 2 Format and Technique Dictation
You should watch the video below which will take you through the format of CAE Listening Part 2 as well as the best technique to tackle this part of the exam. Not only will you learn these things, you'll be practising your listening, writing and reading skills by simultaneously completing a dictation exercise. Let's kill several birds with 1 stone and use our time efficiently! There is also a CAE writing question at the end of the video for you….
CAE Tips: these are available for Gold members only. Upgrade/register now >>
Watch and write down the dictation exercise with me, you can use my online dictation practice worksheet for this…check your writing below the video.
---
Check what you wrote vs the dictation transcript below:
"Format
In part 2 of the Listening paper, you listen to one recording of one person talking.
There is a passage to read with some gaps to fill.
You won't need to write more than 3 words in the gap.
This part tests your ability to locate specific information.
I recommend searching the internet for some 'skimming' and 'scanning' reading techniques before the exam.
Technique
1. At the beginning, you have 45 seconds to look at the passage before the track begins. Spend a few seconds skimming the passage to get an overall understanding of the topic. Then write down the type of words you need to listen for based on your knowledge of word families and sentence structures (study these before the exam). If you think you know the exact words to put in the gap, write these next to the gap as well.
2. Write something the first time you listen. The words surrounding the gap in the reading passage might not be exactly the same as what you hear, but to get full marks, you should try to fill the gap with exactly the same words you hear. Watch out for expressions, collocations, phrasal verbs etc. Use your knowledge of word families and sentence structures to check what you have written is the correct type of word for the gap.
3. Confirm your answers and make sure the overall meaning of your answers is accurate the second time the recording is played.
4. Mind your spelling. Did you remember to add an 's' to the end of third person verbs? (This is a very common mistake with Latin language based learners)!
Question: Report
You've just read about the format and best technique to use in part 2 of the CAE Listening paper. An examination body would like you to give an analysis of this part of the exam.
Your report should include:
What you think about this part of the exam.
How could this part of the exam be improved?
How could the technique to use in this part of the exam be improved?
Write your report in 220-260 words in an appropriate style."
Okay, I hope you didn't make too many mistakes. Remember to write down the number of mistakes you made on this spreadsheet >> (I told you where and how to do this earlier in this CAE listening course).
CAE Listening Part 2 Revision & Practice
The following video let's us have a revision of the information we've learned on this page, so it will be worth watching. It also allows you to practise what we've learned with a sample paper, which you should complete with me. Finally, there is a homework section to complete at the end of the video.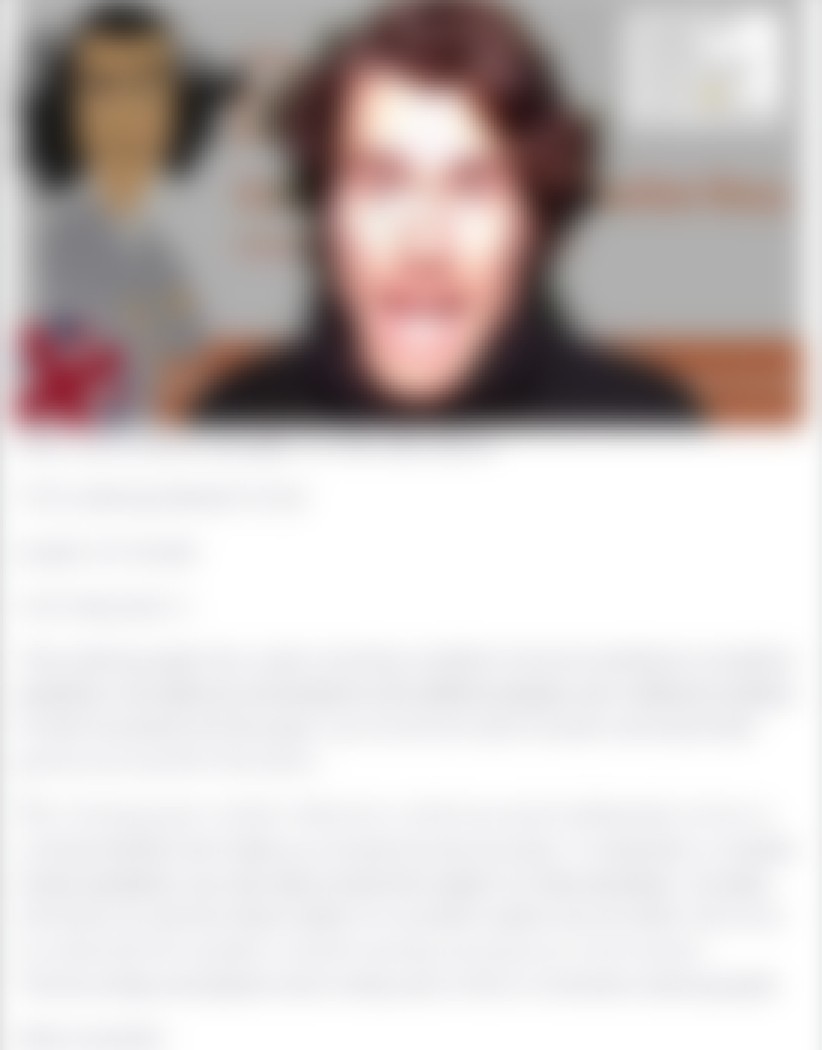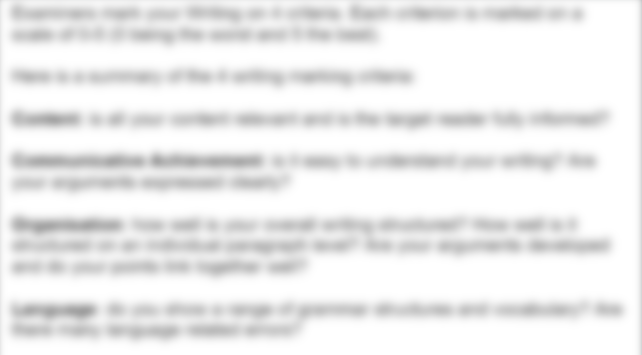 Find out more about CAE memberships here >>
CAE Listening Part 2 – Homework
Here are 7 paragraphs (A-G). Try to put them into the appropriate gap (1-6) in the passage below. 1 of the paragraphs will be leftover and will not fit in a gap.
Paragraphs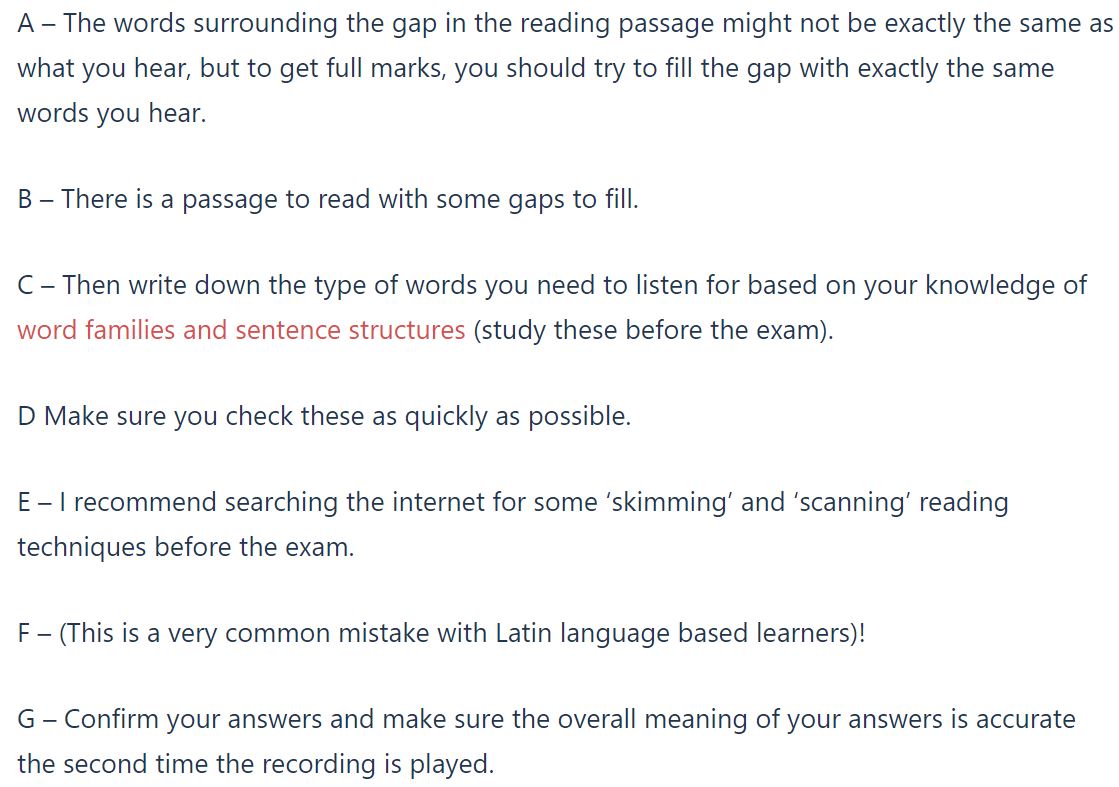 Passage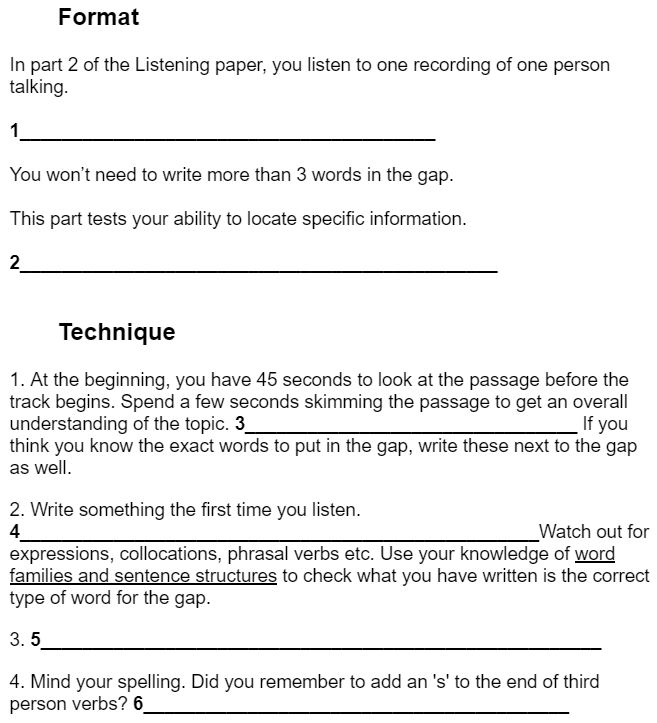 Answers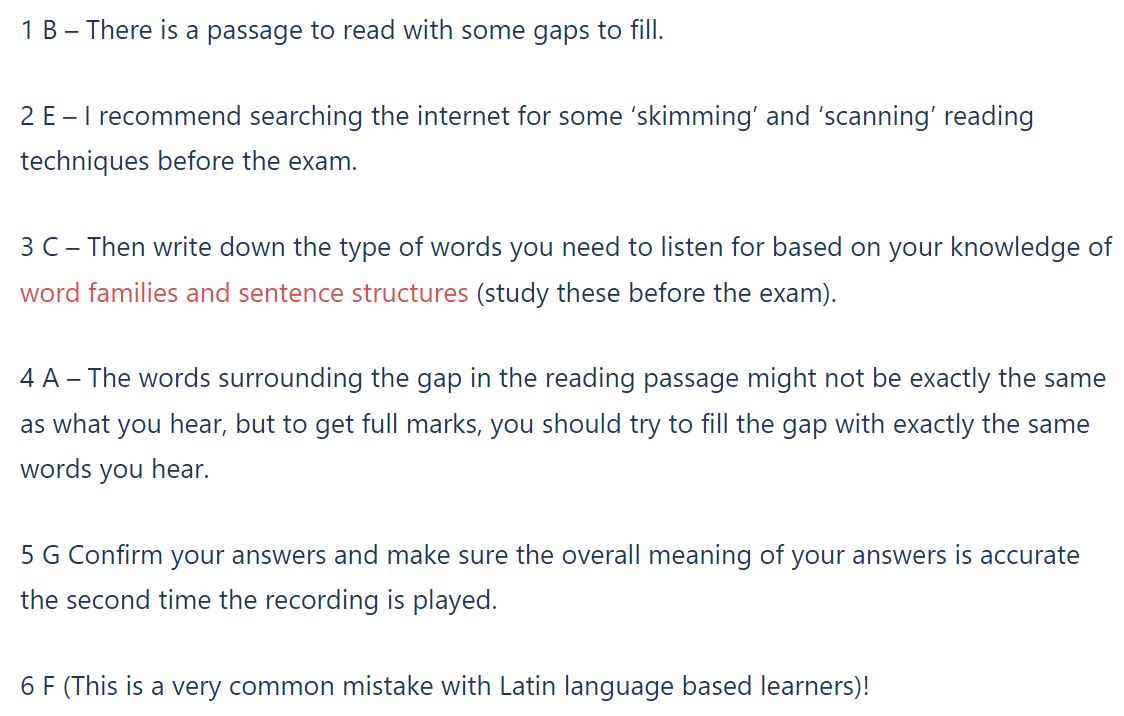 D is the paragraph which is not appropriate for the passage.
That homework exercise is the type of exercise you will face in part 7 of the CAE Reading paper, which we will learn more about later in this C1 Advanced course.
Why not try another part 2 listening here >>
CAE Listening Part 2 – Key Takeaways
Part 2 has a passage with 8 gaps in, like this: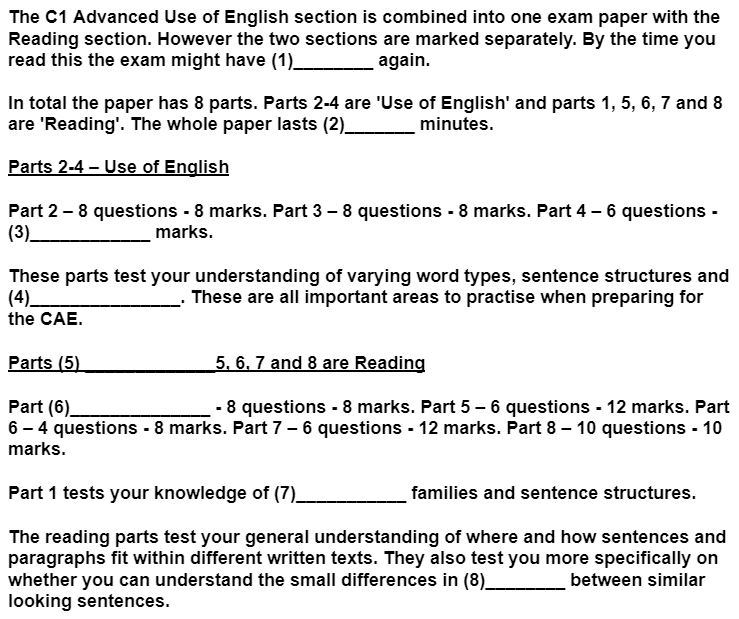 The C1 Advanced listening part 2 can be really straightforward if you have the correct technique in place and do enough practice activities. If you didn't watch my video above, here are a few key points from it:
1. Take a few seconds to read and get an understanding of the topic.
2. Learn about word families and sentence structures and think what type of word you need to put in the gap.
3. Write the same words as you hear in the passage.
4. Watch your spelling. Is your word in the correct form, for example if it's a third person verb, did you remember to add an 's' to the end (very common mistake with Spanish and Italian students)!
Did you enjoy this page?
or
Next Page >>