CAE Essay Examples Introduction
On this page I have put various CAE essay examples which my students have sent to me. If you keep reading this page, you will find tasks to complete and either a video or written feedback which I provided to the student based on the Cambridge English Assessment Scale from the C1 Advanced handbook for teachers. If you don't know how to write a good essay, of if you want to know how examiners mark your essay, check out my C1 Advanced Essay page.
CAE Essay Examples - Question 3
Let's have a look at another example essay that a student sent to me. Similar to the first two, we'll have a look at the question, answer and my feedback.
Fantastic work if you've made it this far...you're really going to be helping yourself prepare for this tricky part of the exam. High five!
Question
The following question can be found on this website.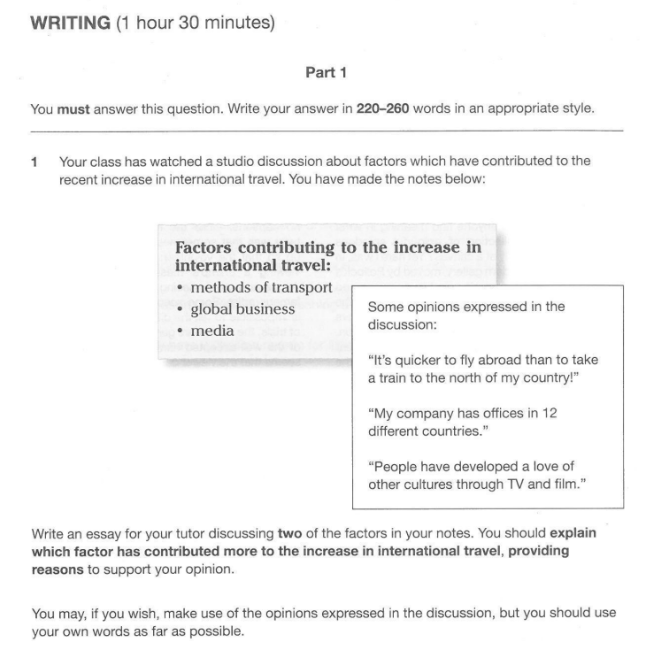 CAE Essay Examples - Answer 3
You should write down any mistakes you find on this document. You should also complete the examiner assessment template with your marks and comments online or print off the hard copy.
CAE Essay Examples - Answer 3 pdf
---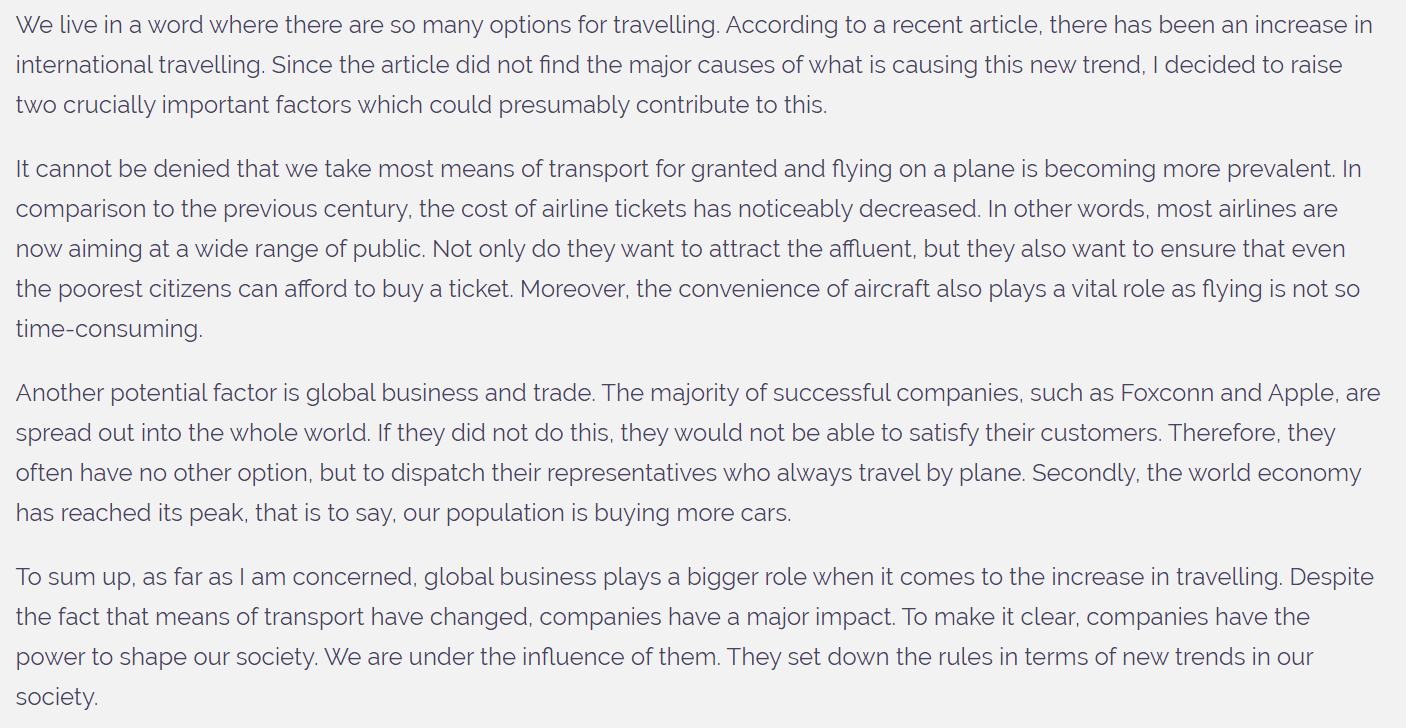 C1 Writing Exam Assessment Template
Download this assessment template here and complete it with your thoughts on the writing above.
| | | |
| --- | --- | --- |
| Subscale | Mark (1-5) | Commentary |
| Content | | |
| Communicative Achievement | | |
| Organisation | | |
| Language | | |
CAE Essay Examples 3 - Answer & My Comments
Here is the student's answer with my corrections and comments written in (bold and italics).
---
We live in a wor'l'd where there are so many options for travelling (Spelling mistakes are not a huge issue, but they are important if they disrupt the flow/meaning of your writing. This spelling mistake is in the first sentence and therefore might put negative thinking in the examiner's mind). According to a recent article, there has been an increase in international travelling. Since the article did not find the major causes of what is causing this new trend (can you think of a way to avoid saying 'causes' and 'causing' in the same sentence?), I decided to raise two crucially important factors which could presumably contribute to this. 
It cannot be denied that we take most means of transport for granted and flying on a plane is becoming more prevalent (Good sentence). In comparison to the previous century, the cost of airline tickets has noticeably decreased. In other words, most airlines are now aiming at a wide'r' range of 'people' public. (We don't often say 'a range of public.') Not only do they want to attract the affluent, but they also want to ensure that even the poorest citizens can afford to buy a ticket. Moreover, the convenience of aircraft also plays a vital role as flying is not so time-consuming. (Good paragraph).
Another potential factor is global business and trade. The majority of successful companies, such as Foxconn and Apple, are spread out into 'across' the whole world. If they did not do this, they would not be able to satisfy their customers. Therefore, they often have no other option, but to dispatch ('dispatch' is not often a word used for people but more for inanimate objects) their representatives, (remember the comma as this is a non-definite relative clause because the next part of the sentence is extra information) who always travel by plane. Secondly, the world economy has reached its peak, that is to say, our population is buying more cars. (I think this point would be made stronger by adding another sentence.)
To sum up, as far as I am concerned, global business plays a bigger role when it comes to the increase in travelling. Despite the fact that means of transport have changed, companies have a major impact. To make it clear, companies have the power to shape our society. We are under the influence of them. They set down the rules in terms of new trends in our society (I think you could combine the final two sentences and avoid repeating the words 'our society').
CAE Essay Examples - 3 Marks
Subscale

Mark (1-5)

Commentary

Content

3

You have answered all the main parts of the question. The answer is slightly too long and even though all the information is answering the question, it would be good to shorten it slightly. 

The answer is generally written in an appropriately formal style and follows the conventions of essay writing.

Communicative Achievement

4

The essay benefits from a strong introduction which introduces the main topic.

The first body paragraph is developed well with a strong first sentence which is then built upon in the rest of the paragraph with some good linking phrases:

"In other words…"

The second body paragraph is fine but the second point in that paragraph could be given more explanation/detail.

Organisation

4

The organisation of the essay is clear with separate paragraphs, all of reasonable length. The main arguments are put forward towards the beginning of the main body paragraphs and built upon well in the following sentences. The organisation of these paragraphs benefit from a range of cohesive devices (linking words) used to good effect.

Language

4

The essay has been written in an appropriately formal style.

There is a good variety of appropriate words and phrases used to good effect, including a range of linking devices, for example: 

"According to a recent article…"

"It cannot be denied that..."

"Another potential factor is…"

"Therefore…"

The student has also shown a good understanding of simple and more complex grammatical structures, which have been used well. For example, the use of inversion and second conditional:

"Not only do they want to… , but they also want to ..."

"If they did not ..., they would not be able to ...."

There are a couple of small vocabulary or grammar related errors, but these do not impede communication.
CAE Essay Example 3 - Pass or Fail
I have awarded the essay the following marks:
Content - 3
Communicative Achievement - 4
Organisation - 4
Language - 4
Total: 15/20
In my opinion, this is a good essay. Remember you only have 90 minutes to complete 2 writing tasks in the exam, but if you could write this and a similar part 2 answer in 35 minutes each, leaving time for planning and checking, I think you will stand a good chance of passing at a C1 level. The examiners tend to mark the writing paper quite strictly in my experience and so it's possible that some of the marking criteria could be awarded a 3, but it's also possible some could be awarded a 5. It depends a little bit on the individual examiner. Well done!
There are some more useful tips for the CAE essay on this website and in my membership website, where you can access my ultimate CAE course.
If you haven't seen my C1 Advanced (CAE) Writing Video Course, which is part of my membership website, you should check it out. It helps you train yourself to pass the CAE writing paper. Here are some reviews of the course: 
"Muy satisfecha con el curso, tanto por las explicaciones del profesor como con la claridad y utilidad de los contenidos." Lucia, CAE Writing. *****
"He puts the important knowledge in a nutshell and I am convinced that everyone who takes part in his online course will pass the CAE." Gina, CAE Writing. *****