CAE Essay Writing 1
Here is an example CAE essay which a student sent to me. Below her writing is a video I made where I critique her writing according to the Cambridge English assessment scale which I showed you above. You can also find 6 more essays with my critique and feedback in my new book.
Essay Question:
Which facility should receive money from local authorities?
Museums
Sports Centres
Public Gardens
CAE Essay Answer:
Before reading this answer, you should open this page and note down any mistakes you find.
"It is known that our city has many facilities that need money from local authorities to continue their work and provide society with good places for leisure. However, we know that it is not always possible to give money to all of them, so local authorities need to face the difficult decision of choosing which facility to aid.
Although not very popular nowadays, museums can be visited by people of all ages and can also help with a serious concern in our city: Education. After all, museums teach us about art, history, science and many other subjects better than many books.
Another important point is that museums usually have fragile antique objects that often need repair, which may cost much money.
Unlike museums, sports centers have become more popular throughout the years, since people want to lead a healthy life. Therefore, it is easier for sports centers to be sponsored by companies in exchange of advertising and get the money they need without the support of local authorities.
Another difference is that because of age or medical conditions, not everybody is able practice all kinds of sports, making museums much more democratic places to visit than sports centers.
All things considered, museums should be the ones to receive money from local authorities, after all they can help us build a better learning environment that includes everybody and that is what our city most needs."
CAE Essay Feedback:
In the video below, I critique a real C1 Advanced essay written by a student from my CAE writing video course. It's really useful for you to be able to compare your own writing with this and see how much more you need to improve. The feedback I give is based on how the examiners will mark your essay in the exam. You can find out more about this on my C1 Advanced essay page. The example in the video is a typical question in part 1 of the CAE writing exam paper. There are some more useful model answers and tips on this website.
You can see more similar CAE essay examples here, or check out my full CAE writing video course for lots more writing samples...
My CAE writing course has lots of lessons full of useful tips and exam strategies for the C1 Advanced writing paper:
"I am convinced that everyone who takes part in his online course will pass the CAE. I absolutely recommend him" Gina, CAE Writing. *****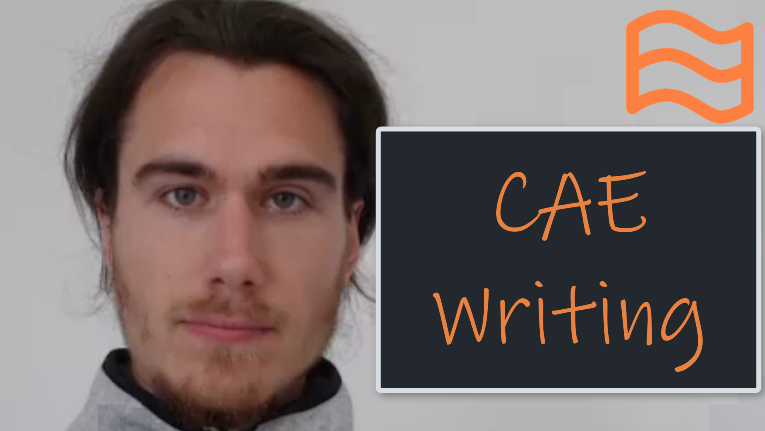 CAE Writing Assessment
If you have a CAE writing task you would like me to mark and critique, have a look at this page.