FCE Article Writing
Do you know how to write an FCE article which will get the examiners smiling?
The way to do this is simple. You need to tick their boxes.
What are their boxes?
Their boxes are what you studied on my FCE Writing Marking criteria page. If you cannot remember them, you should go back and watch that video.
These marking criteria will guide you in your FCE article preparation.
We will look at these in more detail by examining some FCE exam samples.
FCE Writing Tip: this is available for paid members only.
FCE Article Format
Remember for part 2 of the FCE writing part 2 you might have to write: an article, an informal email or letter, a formal email, letter, a report or a review.
They give you 3 questions from the above options and you have to answer 1 question.
One of the questions could be an article.
As I explain in the video below, you need to write between 140-190 words.
How To Pass B2 First FCE Writing Part 2 Articles
Below is a video I made a couple of years ago. You will:
See An Example Question
Critique An Example Answer
Learn Some Advice For Writing An Article
Read Some Examiner Comments
Correct Some Article Mistakes
Learn More General Tips For Writing An Article
Video Links:
FCE Article Advice – Summary
Target reader:
English language magazine or newsletter
Style of writing:
Your article should be interesting and engaging.
You should write your own opinions or comments, so you can write in the first person "I think…" and you can write in an informal way.
You can also ask the reader questions "….don't you agree?" This is a good way to keep the reader engaged.
You should give your article a title….we will talk more about the organisation and language to use in an article later on this page.
FCE Article Question 1
If you watched the first video above (I highly recommend watching it), you will have seen the Article question below. In the video above I showed you what an examiner thought of an example answer. On the rest of this page I will critique another answer for the same question, but before that we will remind ourselves of the question and then write a plan.
Remember, this question has come from the Cambridge English Handbook for Teachers.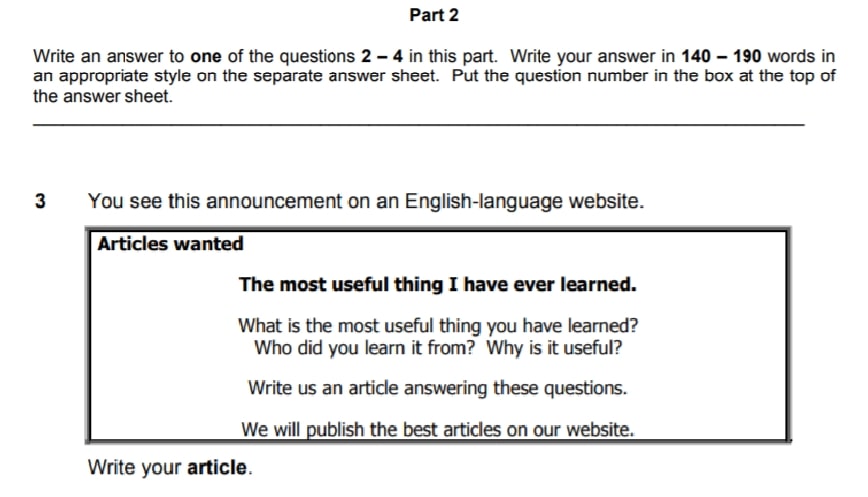 FCE Writing Part 2 – Article – Plan Template
Did you see my last lesson on Part 1 Essays?
Can you remember how long to plan your answer?
a) 2 minutes
b) 5 minutes
---
The answer: I recommend taking 5  minutes to plan your answer in the exam! I talk about this in my next video…
Write A B2 First: FCE Article Plan
Have you planned any academic writings before?
Maybe you have your own approach to planning, which is great.
Exam preparation is not a 'one size fits all' approach.
FCE Exam Tip: this tip is available for paid members only.
Different student have different ways of preparing and that is fine. The trick is to find the best method for you and that is where I can help.
Many of my students have found my FCE writing plan template very useful…so you can try this, download it here: My plan template or complete a plan online here.
Try to complete the template using the question above and spend no more than 5 minutes on this. You may need to add another paragraph or make small changes to the template if you think they are necessary.
Are you a fan of George Michael's music? (Tell me in the comments at the bottom of this page)
I quite like some of his songs. This song is stuck in my head at the moment….writing a plan shouldn't take much longer than the length of this song:
Sample FCE Article Answer 1
Below is an article which one of my students wrote.
I recommend downloading the answer and correcting any mistakes you find.
Download This Sample FCE Article Answer
---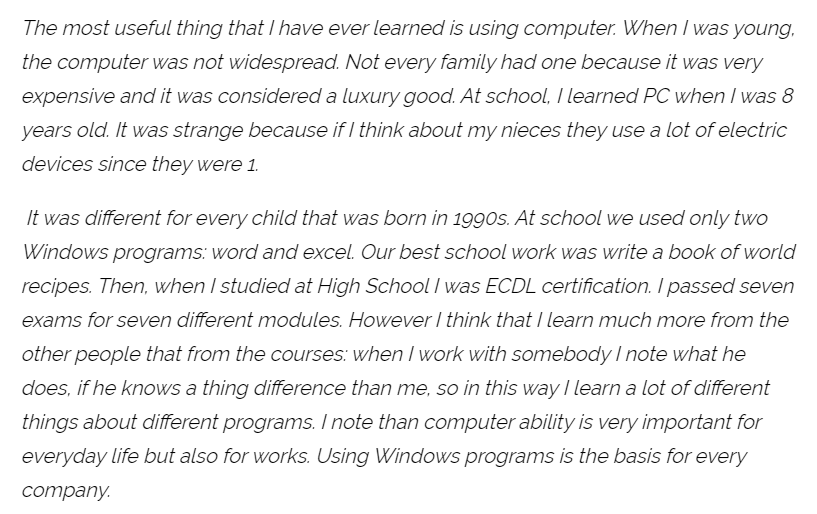 Sample FCE Article Answer 1 With My Critique
The most useful thing that I have ever learned is using a computer. When I was young, the computer was not widespread. Not every family had one because it was very expensive and it was considered a luxury good. At school, I learned to use a PC when I was 8 years old. It was strange because if I think about my nieces, they have been able to use a lot of electrical devices since they were 1 year old.
It was different for every child that was born in the 1990s. At school we used only two Windows programs: word and excel. Our best school work was writing a book of world recipes. Then, when I studied at High School I achieved an ECDL certification. I passed seven exams on seven different computer modules. However, I think that I learnt much more from the other people than from the courses: when I work with somebody, I note what he does, if he knows something different than me, so in this way I learn a lot of different things about different programs. I note that computer ability is very important for everyday life but also for work ('work' is an uncountable noun). Using Windows programs is the basis for every company.
Examiner Assessment Scale Template With My Comments
Subscale

Mark (1-5)

Commentary

Content

4

The three main content points are all addressed. The third main content point, why it is useful, could be developed in more detail and the second main content point is addressed at different times during the writing. I think you could make it clearer when you address the second content point and it could have it's own individual paragraph.

Communicative Achievement

2

The article could be written in a more fun and engaging way to keep the target reader interested. The tone is friendly and informal but it could be made more exciting. While the writing addresses the main content points, it is not very clear when and where the points will be addressed. The ideas are a bit scattered and the writing could be improved a lot by having clear, distinct paragraphs, including an appropriate introduction and conclusion.

Organisation

2

The writing only has 2 big paragraphs. As you can see in my plan above, I would recommend writing 4 or 5 paragraphs. This will also help the examiner to see the relevance of your content. The writing is missing an introduction and conclusion.

Some linking words have been used and the student could have used more if the writing was clearly developed into separate paragraphs, addressing separate points.

Language

3

A variety of language has been used to good effect. Using a range of vocabulary is a good thing to do in the exam, 'computer', 'PC' etc. There is not a wide range of grammar and verb tenses used in the article. The writing would get higher marks if more attempt was made at using some more difficult grammatical structures rather than only past simple and present simple. There are some errors with the language, but these do not impede communication. You can see some other typical mistakes FCE students make on this page.
FCE Article – Pass or Fail?
Your writing will be marked according to how many marks it was awarded on the examiner assessment scale. You need a minimum of 24 out of 40 possible marks to pass the FCE writing paper. Remember, there are 2 different writing to complete, so you need to average 12 out of 20 for each writing task.
This student got:
Content: 4/5
Communicative Achievement: 2/5
Organisation: 2/5
Language: 3/5
Total: 11/20
If the student got 11/20 for their part 2 writing task, they would need to get 13/20 in the part 1 essay in order to pass the writing paper.
You do not need to pass every exam paper to get the B2 First certificate, but you do need to average 60% + across all 5 exam papers.
FCE Article Vocabulary
Engaging the target reader:
What would you think if….?
Would you ever….?
Does…..appeal to you?
….., don't you think/agree?
What if….
Linking words:
The first thing that springs to my mind is….
Funnily enough, …
Imagine + second conditional/verbing
Amazingly, ….
Interestingly, ….
Classroom/Homework Activities
Here are some B2 article activities for you or your students to complete:
Class handouts/hard copies…
Did you enjoy this page?
or
Next Page >>