CAE Speaking Exam Format
The 'CAE Speaking Exam Format' video below will show you:
-A general overview of the CAE exam.
-The C1 Advanced: CAE Speaking paper format.
-How long the speaking paper lasts and what the different parts look like.
-Extra exam tips...remember to watch till the end 😉
CAE Speaking Exam Practice
In the video below you will write down a dictation exercise about the format of the speaking paper. It also has some useful tips to remember!
Sadly, the video below is only available to CAE Gold members. Register/upgrade here >>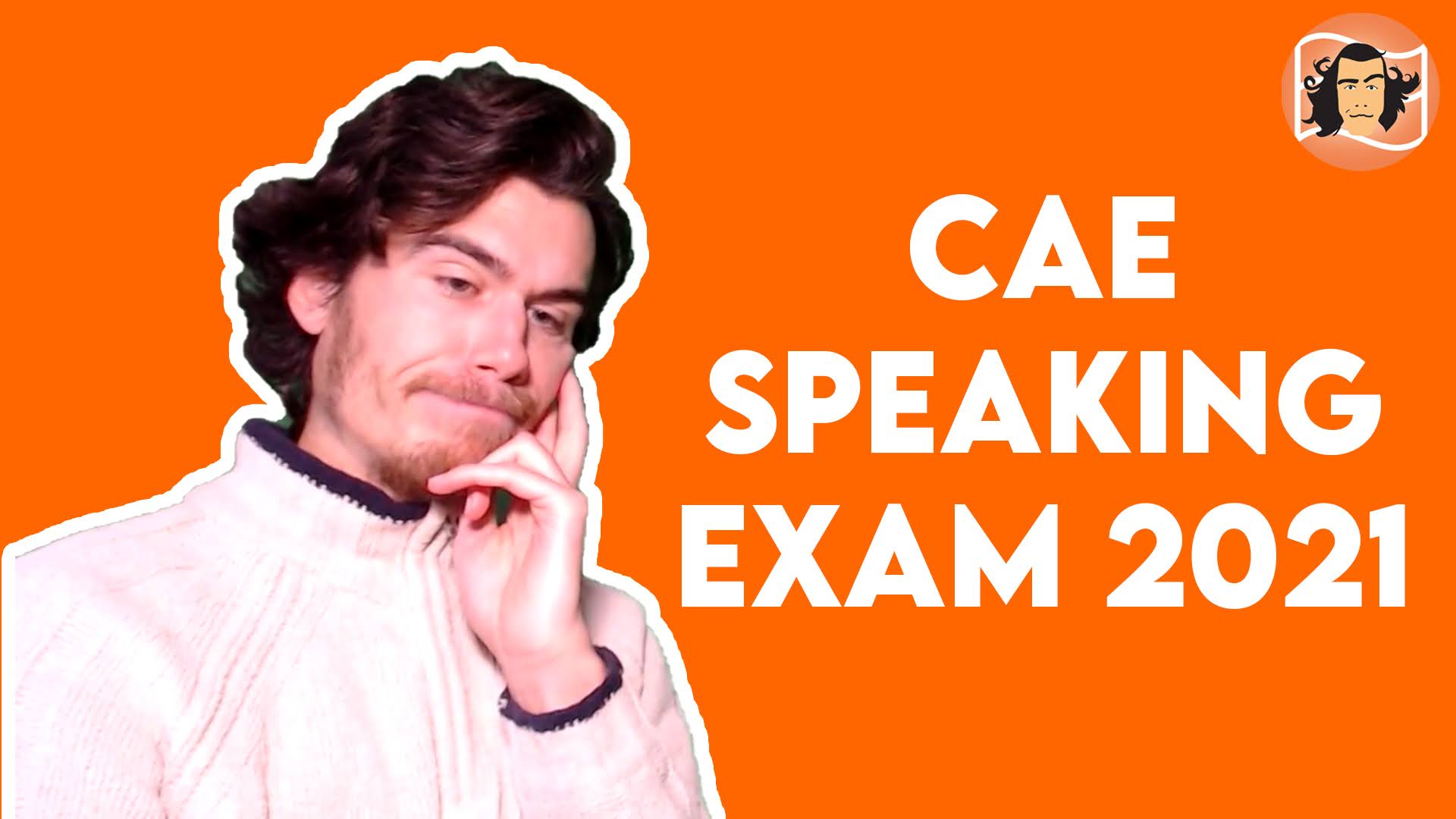 You can write down the dictation exercise on this dictation worksheet.
Here is a script of the dictation so you can compare it with what you wrote down:
"General Format 
Length: The length of this paper depends on how many candidates there are. Normally 2 candidates take the test together and this lasts approximately 15 minutes. Occasionally 3 candidates take the test together and then each part is slightly longer.
How many parts: 4
The Speaking paper has 4 parts. 
Part 1 is a general chat between the candidate and the examiner. The examiner typically asks general questions about the candidate.
In part 2, you have one minute to answer a question about some different pictures. You then answer a question about another candidate's pictures. 
In part 3, the examiner gives you a topic to discuss with another candidate for 2/3 minutes. You then have one minute with your partner to answer another question. 
In part 4, you have a further discussion with the other candidate and the examiner. The discussion is connected to the topic in part 3. 
The Speaking paper assesses not only your knowledge and use of language, but also your ability to interact and have a conversation with the other candidate(s). 
You should try to develop your answers and justify what you say. This way you will show a wider range of language ability. The more you speak, the more language you can show. I often tell my students to think 'why am I saying this' or 'why did I make that comment?' You should then try to answer these questions while you are speaking. 'I'm saying this because or ' 'I made that comment because...'
"
CAE Speaking Exam Format Revision
Let's revise what we now know about the C1 Advanced speaking exam format while simultaneously completing a CAE Use of English part 1 exercise. Hopefully you'll remember how to do this task from the earlier page in this CAE course: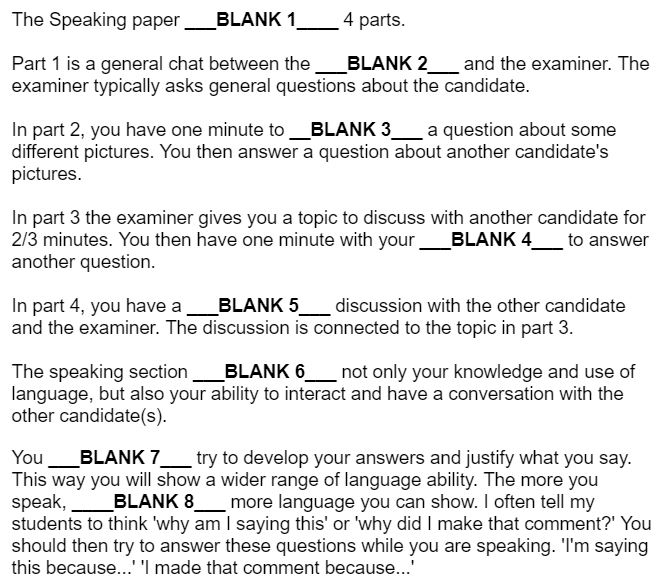 | | | | | |
| --- | --- | --- | --- | --- |
| 1 | A) HAVE | B) HAS | C) DIVIDES | D) SEPARATES |
| 2 | A) CANDIDATE | B) PERSON | C) INVIGILATOR | D) PEOPLE |
| 3 | A) REPLY | B) RESPOND | C) TALK | D) ANSWER |
| 4 | A) PARTNER | B) FRIEND | C) COLLEAGUE | D) TEAMMATE |
| 5 | A) FURTHER | B) DISTANT | C) LONG | D) FRIENDLY |
| 6 | A) RAISES | B) ASSESSES | C) RESUMES | D) FEELS |
| 7 | A) SHOULD | B) NEED | C) WILL | D) ALSO |
| 8 | A) THEN | B) THUS | C) THE | D) THEREFORE |
Answers
B - HAS
A - CANDIDATE
D - ANSWER
A - PARTNER
A - FURTHER
B - ASSESSES
A - SHOULD
C - THE
Homework
Watch the video below which will give you a reminder of the structure of the whole C1 Advanced exam. It will also repeat and cement the information you've learned about the CAE Speaking paper format:
Next Page >>
Becoming a free Taster member will not only unlock the 'Next Page >>' link above, it will also grant you access to loads more resources.