CAE Preparation Online – Introduction
A good CAE preparation online course should provide all the information required in order to pass the C1 Advanced Cambridge English exam. It should show go through the format of the exam, a technique for every part and the necessary vocabulary and grammar to pass the exam.
Hello all you lovely students out there! I guess you're here because you've made the very sensible decision to take the C1 Advanced (CAE) Cambridge English exam. And not only do you want to pass this CAE exam, you want to ACE IT!!! Well, good news for you, you've come to the right place. This CAE preparation online page will tell you exactly what you need to do before, during and after the exam to prepare yourself in the best way possible. If you're not sure what the CAE exam is, or if it's the right exam for you, don't worry, I explain why it's a great choice to take the exam on this CAE exam page.
I've gathered together all the best knowledge and experience to help you achieve your goals, like so many people before you. The C1 Advanced exam may seem scary at first, but that's exactly why I'm here. I want to make the process of passing this daunting exam as easy as possible for you. On this page you will find some of the most important things you need to know about the exam, what to do and what not to do. But most important, I show you the best way to PREPARE YOURSELF for the exam in your own time. This allows you to make the most efficient use of YOUR TIME AND MONEY!!!
English lessons can be expensive and preparing for exams can be a long and difficult process. That's why I have designed all of my CAE courses to cut the cost of time and money. Personally speaking, I love a bargain and I love getting value for money in everything I buy. In fact, I try NOT to spend money wherever possible and that is why, for those of you that really don't want to spend a penny, well, this page is for you too!! (FYI I do strongly recommend that you WISELY invest some time and money into your CAE studies).
Whether you have decided to take the C1 Advanced exam or, even if you're unsure....keep reading to find out loads of useful information - by clicking the links in the 'Contents' below, you can also skip to any section you find most helpful for you!
My CAE Exam Is Tomorrow!
If your CAE exam is tomorrow, or very soon, don't panic. Watch this video, it will help:
CAE Preparation Online - Before The Exam - Resources & Strategy
In this section you will learn the best method to use to prepare yourself for the C1 Advanced exam and save lots of £$ money on private lessons.
1. Gather Resources
The first thing you need to when you make the decision to do the CAE exam is to gather the most beneficial resources. I've taught this exam for several years and so I know the best materials for you to use and where to find them. First, I recommend checking out my 'C1 or not C1?' book:
'C1 or not C1?' teaches you the best exam techniques to use in every C1 Advanced exam paper. You should keep these open next to you when you complete practice exercises. It is also free with Kindle Unlimited trials (in some countries).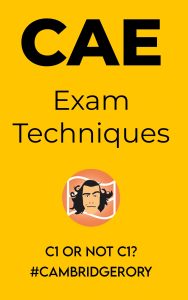 You can buy the paperback version of this book here >>
'Ready for Advanced' is a good coursebook and will focus you on the important grammar and vocabulary knowledge you need for the exam and will give you plenty of practice for all the exam exercises.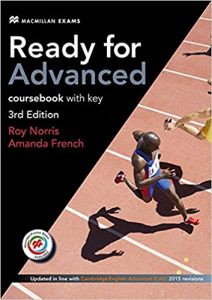 You can buy the listening cds along with the 'Teacher's book' here: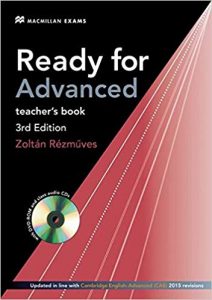 You can buy the workbook without the grammar reference but with a listening cd and approximately 14 listening tracks here: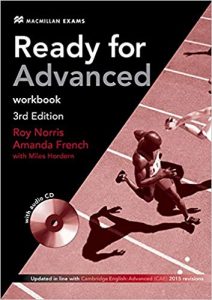 Some of my students have told me that the listening exercises in the exam are much more difficult than the listening exercises in this book. As a cheaper alternative, you can find listening samples on youtube.
A practice test book will be really useful for you. It is a good way to judge your current level and progress. I have used this book in the past: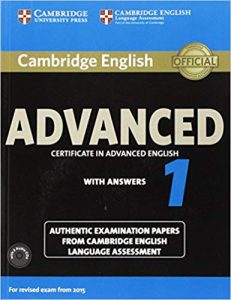 For writing practice, I really recommend my new 'CAE Writing Samples' book. In some countries, you can read it free with Kindle Unlimited: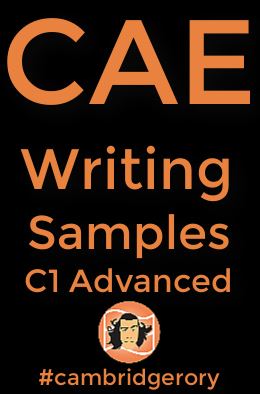 You can also buy the paperback version of this book here >>
For extra grammar practice this book is very good: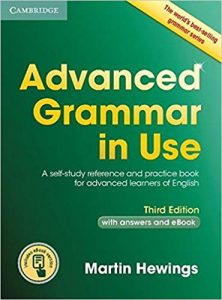 This book is also very good for grammar: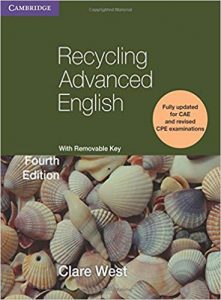 2. Learn exam techniques.
You need to learn the best ways to approach each part of the exam. If you can master a technique for every part of the exam the time it takes you to complete the tasks will be massively reduced and you will hugely increase your chances of success. My 'C1 or not C1?' book I mentioned before teaches you this. My C1 Advanced (CAE) Speaking, Listening, Reading, Use of English and Writing courses also help you learn and practise this technique. They guide you through the exam in a lot of detail. These are the only courses I've found which explicitly show you in a methodical way how to tackle each exam paper.
Become a member and start these courses immediately >>
3. Use the CAE coursebook above to target your weak areas of grammar.
There are grammar sections in every unit and there is a key at the back of the book, so you can see if you are weak in any areas. Improve these areas of grammar by using one of the other recommended books or resources above.
4. Complete a coursebook using the techniques you learnt in step '2'. 
Use the strategy you learnt from my  Speaking, Listening, Reading, Use of English and Writing courses to complete all of the exam exercises in the book!
Hopefully after completing the coursebook using the structure learnt, you will be able to complete the test book more easily and in a quicker time.
6. Test your writing and speaking skills. 
If you would like to know if your speaking and writing skills are good enough, you can book online lessons with a CAE teacher here. Alternatively, you can use my CAE writing correction service. You need to be averaging 60% + in every exam paper to pass the exam. You can find out more about how the examiners mark your exam on my CAE exam page >>
7. Book your exam.
You can do the exam in Cambridge, or in lots of other places around the world. Use this website to find your nearest exam centre.
8. Wait for a response location, date and time of your exam.
Sometimes you might not receive information about the exam until only a few days before the exam date. Do not panic if you are in this situation!
9. Think about how you will travel to the exam centre.
You want to make the exam day as stress-free as possible, so think about whether you will stay near the exam centre the night before, take a bus, car, train etc. Some exams start early in the morning, so check that there is public transport at that time.
CAE Preparation Online - What To Do During The Exam
I recently made a video about this. I think you'll find it really useful...
Hopefully that video has prepared you really well for what to expect on your exam day.
If you would like some more information, here are some useful links Cambridge give you:
4 Quick Tips
You should use a pencil in the exam, or a pen for the writing paper.
Remember to write in CAPITAL LETTERS! Or in normal but neat letters for the writing paper.
Remember to always write an answer.
REMEMBER THE TIPS AND TECHNIQUES THAT YOU LEARNT FROM MY  Speaking, Listening, Reading, Use of English and Writing COURSES!
CAE Preparation Online - What To Do After The Exam
1. Drink a beer!!! Or a soft drink if you don't drink alcohol 😉
2. You have to wait about 6 weeks before you receive your exam results. However, it depends what time of year you take the exam and so you might receive it sooner, or it might take longer.
3. When you receive your results - jump up and down in the air if you have followed my method and passed the exam!!! Or sit in a corner and cry if you haven't passed. Only kidding, of course I hope you pass because having a C1 English certificate really does make a big difference to people's lives. But if you don't pass, don't worry, you can take the exam again as soon as you like afterwards. Although my recommendation would be to take sometime to critique your result and find your weakest areas which you need to improve on. If you decide you need any more professional help, check out some of my products....
"I'm very satisfied with the course because, in addition to tips and strategies, the teacher has highlighted the different CAE Speaking Parts with real practice and mock tests with other students. Thanks, Teacher Rory!" Antonio, CAE Speaking. *****
"Corso eccellente ed esaustivo. Consiglio vivamente a chi cerca un riferimento valido per prepararsi all'esame di lingua Advanced CAE Cambridge!" Marco, CAE Speaking. *****
"I am a CAE trainer in Pakistan and had been struggling to teach part 4, the most essential part of the listening module. But this course really made it easier for me to better teach and train the students to take listening test of CAE." Muhammad, CAE Listening. *****
"This course clarifies the listening part of the test, it tells you exactly the structure, it presents the different kinds of exercises and it gives you useful tips to answer and score high 🙂" Maria, CAE Listening. *****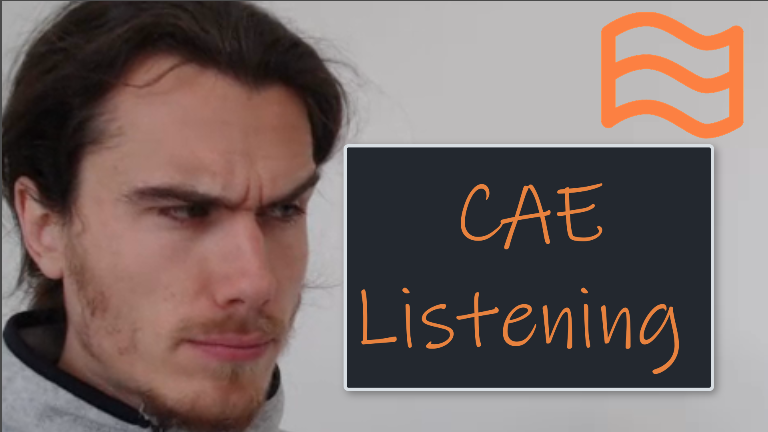 "This course has been one of the most useful for the preparation of my exam. It is full of advice, tips and strategies I kept in mind while doing the exam. I think it helped a lot in delivering it with efficacy. I also liked the teacher, who I found very clear and organized. His British accent is simply beautiful to listen to! I think I'll follow more of his lessons." Valentina, CAE Reading. *****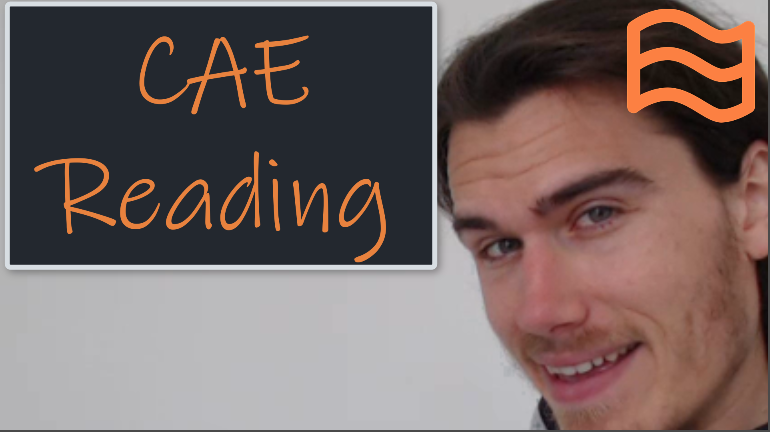 CAE Use of English Course
"Rory is a great teacher, sharing with his students the best advises to be applied on CAE exam. This course will give you a concept totally different about how to pass Use Of English part. I really recommend to everybody to enroll this course if you want to have the best tips." Jonatan, CAE Use of English. *****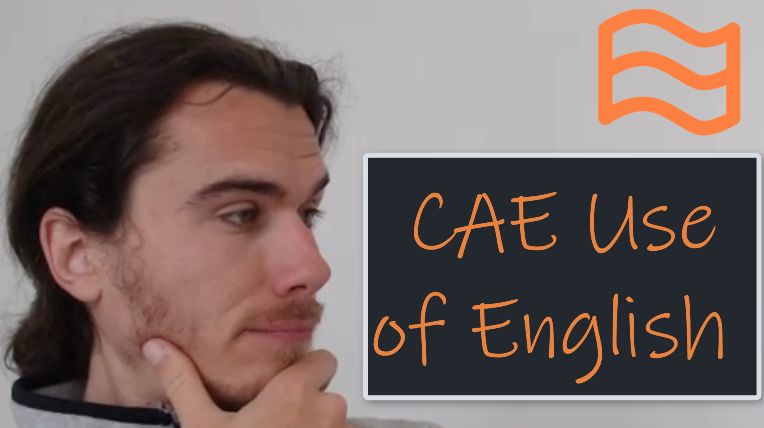 "Rory is a brilliant teacher. He puts the important knowledge in a nutshell and I am convinced that everyone who takes part in his online course will pass the CAE. I absolutely recommend him if you want to study and learn hard for the exam!" Gina, CAE Writing. *****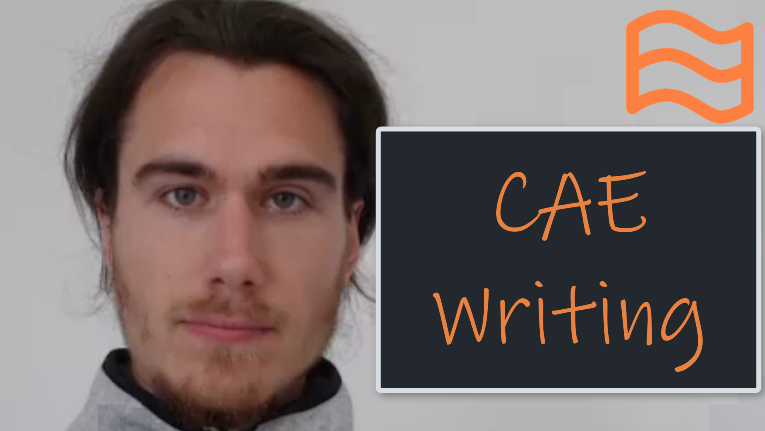 CAE Preparation Online Lessons
These lessons are very flexible. You can ask the teacher to focus on any part of the exam that you want! My teachers and I offer a wealth of experience and can give you the ability and the strategy to pass the exam. Members get discounted prices on lessons.
Here is an example from a private lesson with tips and example answers to pass the Speaking paper...
---
CAE Preparation Online Discussion Topics
I created Telegram groups and a Facebook group where students and teachers can come to share advice, tips, experiences and resources for the C1 Advanced (CAE) exam.
If you want to join this group, you first need to become a Gold member of my new website here. If you join, you will get access to all my C1 Advanced courses, exclusive live lessons and you can direct message other successful students and teachers.
You can read some testimonials before signing up here...
---
Common Mistakes At C1 Advanced: CAE
Check out this page for loads of mistakes and solutions that real students have made while preparing for the CAE exam. Or watch this video playlist: