4 MASSIVE Reasons Why Students Take English Language Exams
Do you prefer watching videos rather than reading articles? If the answer is "YES", I made a video of this blog post here for you:
On this page you will learn why students take English language exams. But first, I have a question for you:
"When you read information online, how do you know you can trust it?"
This question is particularly important to ask nowadays given the amount of "fake news" that seems to exist. For example, at the time I'm writing this, Covid19 a.k.a the Corona virus has hit the world and there has been a lot of "fake" and untrustworthy information circulating about how to protect ourselves from this virus. Untrustworthy information will increase as more and more people stay inside and use computers. If this is the first time you've visited my website, I want to quickly tell you why you can trust me and why you can trust the information in this article.
Who am I?
My name is Rory and you can find me on Youtube, Instagram, Facebook and many more places around the internet. I'd love it if you followed me and because I have so many followers, I feel I also have a reputation to uphold. Students appreciate my work, see my testimonials and I don't want to jeopardise this.
Why can you trust what I say?
If you have joined me on social media, you should know a little bit about me. But did you notice that my work mainly focusses on teaching Cambridge English exams? That's right, I've been helping thousands of students pass English exams online and offline for several years. I have lots of first hand experience why students want to take English exams.
HOWEVER...I am not a computer and my brain isn't the size of the Empire State Building. Are you surprised? Maybe I do have a big head? I certainly have long hair...hahaha, anyway, what I want to say is, because I work with so many students on a daily basis, it's difficult to remember why each student wants to pass an exam.
I wanted to know the most popular reasons why students take English exams. If you are reading this, I guess you want to know too. Well, you're in luck because I started collecting this data. I repeat
I STARTED COLLECTING THIS DATA
and I will first tell you exactly how I collected the data so you can better decide whether you trust it or not. Then we will draw some conclusions about the overall most common reasons REAL students gave for wanting to take an English exam.
Where has my data come from?
As I told you earlier, I have a Youtube channel, an Instagram page, Facebook groups and I also have a membership website which helps students pass Cambridge English exams. I wanted to gather data in different ways from people in different countries around the world. I also took this data over the course of several months. Through this approach, I felt happy that I was gaining a comprehensive understanding of the MOST COMMON REASONS why students take English language exams.
Until now, I have received over 275 responses and I collated all these into a google spreadsheet (okay okay, I'm a bit of a nerd, I love using spreadsheets for lots of things). I explain this spreadsheet along with other useful information in the video below, but some people prefer to read, so I also explain how my data sources and outcomes below the video. If you check out my B2 First or C1 Advanced exam courses, you will see that I try to teach techniques using a variety of materials because I know that different students benefit from different learning methods.
Facebook
When someone requests to join one of Facebook groups, they have to answer a question, so I asked:
"Why do you want to pass --- exam?"
I added their response to a google spreadsheet and after doing several of these, I realised I could categorise their answers into 7 different columns...

The 7 columns/reasons for taking an exam (not in order of popularity) were:
'Personal Challenge'
'Communication'
'Work'
'Become a better teacher'
'University'
'To have a certificate'
'Travel'
Every time someone told me they wanted to take an exam to get a (better) job for example, I added 1 more number to the 'work' column, etc. etc.
But wait, it gets more complicated because I also collected information from other sources.
Youtube
On my YouTube channel, I have a community area where I can talk with my students, ask them questions, get them to complete questionnaires etc. So, this is what I did. I ask them to complete a poll and after 72 hours, these were the responses: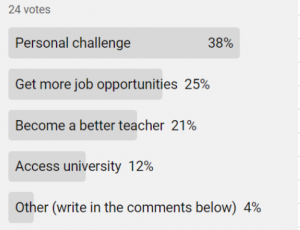 From this information, I calculated how many people voted for each option and added these responses to the google spreadsheet.
Instagram
On Instagram, I gathered data in a very similar way to YouTube. I created a poll on Instagram stories. I was only allowed to put 4 options, so I used the most common reasons I had already received from Facebook and YouTube and for the 'Other' category, I asked students to write and tell me their reason.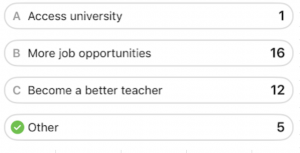 Members of My Courses/Websites
Finally, every time somebody joins my membership website, or signs up for a free course, I ask them why they want to do an English exam. I have been adding these responses to my google sheet as well...

Overall Results
I added together all of the different reasons into one complete table and I worked out the % so we can see the most popular reasons. 'Communication', 'Certificate', 'Travel' and 'Other' reasons students told me only comprised a small number of the overall responses, so I put these into one column 'Everything Else'.

As we can see, the 'Work' category, which is people who want more job opportunities is the most popular category. We can see that 119 people, nearly half of all the students who responded told me they wanted to pass an exam so that they would be able to get (better) jobs. These students were from different countries around the world. At the bottom of this page I will write exactly what students told me and so you can see which countries some of these students are from.
What conclusions can we draw from these results?
Well, there are many conclusions that can be drawn and some of them you may have to make for yourself, but these are the main ideas I have:
People around the world want to improve themselves and move forward in life. This applies to everybody who takes an English exam. I love this way of thinking. It shows what I believe to be one of the best sides of humanity. We are motivated to improve and I am exactly the same. This is one reason I love my job because I get to meet so many like minded people on a daily basis. Preparing for and taking a test will be incredibly useful for you, regardless of whether you pass or not, because you will be learning through the process. You will pick up different learning mechanisms and strategies and thus you will become a more efficient learner. You will also improve your test taking abilities and become a more adaptable person.
I was surprised at how many students wanted to do the exam as a 'Personal Challenge'. Some of the main reasons for this were because students like setting life goals for themselves (this also fills me with joy). Other reasons included becoming more fluent in the language and also showing off to friends "I have a certificate na na nana na".
Other reasons for wanting to take an exam included wanting to improve everyday English and the 5 main skill areas: Speaking, Listening, Reading, Writing and Use of English. These are tested in most well known and respected English exams.
More Information On English Language Exams
If you would like to know more specific information about some of the most well known and respected English exams around the world, I really recommend having a read of my free e-book. Some of the topics I go into more detail on in the book are:
Which exams you can take
Where you can take exams
Which work/education/other institutions accept which certificates
Certificate expiration
The positives and negatives of different exams
Tips and Techniques for passing my recommended English exams
How to know if you're ready to pass your exam
Why Do You Want To Take An English Language Exam
I'd love it if you write a comment at the bottom of this page telling me why you want to take an exam, if you enjoyed this page or if you have any questions or general comments.
Reasons Why My Students Take English Language Exams
These are some of the reasons my students gave for why they want to take an English exam. Perhaps you have the same reason?
"Hello Cambridge Rory,
To answer your question; I want an English language qualification to improve my resume and to communicate better with my English-speaking family."
"I WANT TO DO THE CAE EXAM BECAUSE I AM AN ENGLISH TEACHER IN BRAZIL."
"Good afternoon,
I'm going to pass B2 First exam because I use foreign tax law and like read books in original language.
Your sincerely,"
"The reasons why I want to take CAE exam are:
· I want to take the exam for my personal satisfaction and proof of high level of English knowledge. As I am styding abroad on English, I think I have improved in every field of the language (speaking, listening, reading, writing). Of course, I have to practice more and more the C1 material, which I am doing during these quarantine days.
· It will significantly contribute to my future career and degrees (Master and PhD) as well as to my job application and CV"
"Hi Rory,
The reason why I want an English language qualification is because I have B2 level and I've been in an Erasmus programa and I think now is the best time to study and get the C1.
Thank you for you recommendation."
"Hi Rory!
I'd like an English language certification because I want a better job opportunity. I lived almost 2 years in Manchester but that's not enough because I have to prove that I can actually speak English pretty good, and also because it's been 2 years now since I got back from UK and I'm not used to speak English anymore."
"Because I want to talk very fluently to teach english to my cousins and also due to this year at my school I have the opportunity to get an English language cualitification of upper-intermediate level so i want to know more about grammar."
"I want to get CAE for it to be a personal goal. It would obviously be to certificate my english, but mostly for the first reason."
"Dear Mr. Rory,
You kindly asked for my reply to your question why do I want to get an English language qualification.
There are several reasons, but the most important one is because I failed and got FCE certificate last year. I was really near to pass it, however, I needed 9 more points. I am the type of person who never gives up and, with that saying, I want to try again and pass it!
Additionally, I want to feel proud of myself and my knowledge of English.
I started watching your videos for C1 classes and I do find them utterly fascinating and very useful. I will keep following your classes and learn tips and tricks about the exam.
P.S. Is there a possibility that you may have a crash course for C1? Thank you in advance.
I am looking forward to hearing from you. Stay safe and take care.
With warm regards,"
"Hello!!
I'm really sorry I couldn't answer this email yesterday.
I want to get an English Certification because I need it for my job. I'm an English teacher in Mexico so once in while I have to take a certification test to prove my employees that I have a good level of English to teach it to others.
if I can present this test this year I will be able to get a better job next year."
"Dear Rory,
As a matter of fact, I already have a B2 certificate obtained in FCE. Nevertheless, I was just one point away of getting a C1 certificate. That is the reason why I decided I should take CAE and I am now striving to get a C2 certification. I am engaged in doing this owing to English being a crucial language. Moreover, I have been studying English since I was 6 years old, so I have developed a passion for it. In other words, I am also doing it for pleasure."
"Rory,
Thanks for asking me. I want to get an English language qualification because it helps for my teaching job. if I get it, I can teach at high grade. Please, help me!"
"I want to take an FCE exam because I want to have a proof on paper that I have the qualification at this level. Years ago I have finished English Teacher's College and I didn't go further. I have two children and I didn't learn English. I gave few private English lessons and I was ashamed that I've forgotten grammar, vocabulary. My plan for today is to take an FCE exam and if I pass it at this level I want to take an CAE exam and next business English exams."
"Because I want to became an English teacher, a good one."
"I've downloaded it because I study general linguistics with English. I have found this very usefull, especially the 'key word transformation exercises.
Thank you!"
"I want to get an English language qualification because i want to go study to England"
"In fact, I am an English tutor. In general, I teach IELTS and FCE, but this year I am teaching CAE, which is why I am looking for some handouts to use in my lessons. This is how I came across you and your CAE course. Anyway,
I find your course very useful.
Thank you so much."
"I want to get an English language qualification because i want to study in England and it will let me not to write a regional exam."
"Just for personal curiousity and satisfaction and, of course, this language puzzles me."
"Hello!
I'm ---, I'm from Poland.
You've asked me why I want to get an English language qualification.
Well, I need to pass CAE exam because of my studies, but what is more important for me- I want to teach English in the future. My dream is to work in a private school. That is why I really need your help! I'm going to write an exam in June."
"First of all, thanks for your free CAE course. I want to get an English language qualification because I'm an English teacher and it's a good opportunity to develop my professional skills and maintain my level. I love the English language so taking exams like CAE is a great motivating factor."
"Because I want to further my education in any English speaking country."
"I just want to improve my language skills because I have a proficiency exam including all language skills. By the way, I am a student of English Language Teaching department in Turkey. My proficiency exam is similar to CAE. While I was looking for some useful things in YouTube, I found your channel and really liked your video courses. I'd like to be a successful teacher like you. Your video courses are helping me in many areas."
"But just i an in Istanbul and i need to start university then they say you must hve certificate of english language"
"Hi Roy! I teach English as a second language and the school I work for is requesting it. It is the American School of ---, in --- Mexico."
"Greetings,
I would like to achieve an English language qualification because I aspire to study at a University in an English-speaking country. Apart from the fact that I have been studying English and am really fond of it. When I took FCE a couple of months ago I strived a lot to get C1. Nevertheless, I did not get it by just one point. Hence I want to take CAE."
"Hello teacher, I hope you are doing great, so I want to read, write and speak English fluency cause I need it on my travel overseas, and my work also to get more knowledge and culture from around the world."
"Hi Rory, thank you for the free video and all the contents you made for us. I really appreciate it! Aswering your question, I want to receive the first certificate in english simply as a Challenge to myself and to see if I can make it through, but also for me would be really useful to travel, live and work abroad, which are some of my plans for the future ( I'm Italian by the way, and I'm going to do the FCE exam in february 2020)"
"Because I want to apply for university in London, next year. So I have to pass the CAE and there aren't any preparation courses to take in Stockholm, Sweden. I'm gonna have to prepare on my own. I bought your CAE writing video, I'm hoping it will help me out a bit :)"
"Hi Rory,
Thanks for your email, since 16 years I live in London never I had the opportunity to study English language.....by the way there are now in my dream to reach the C1 level of English language because I would change my life and also because I like to learn this language. I think I could have lots of chances to get good job if I improve my English, then I'm looking for someone could help me to achieve this certificate, for this I' m searching by the web the best option and I hope you can help me to do this.
Many thanks"
"Rory, nice to hear from you.
I would like to pass this exam because I want to 

raise

 

my

 

English

 

level

 and use it in 

my

 job. 

My

 

English

 used to be pretty good when I graduated from the university, but now as I unfortunately almost don't use it at all in 

my

current job, it seems like I've forgotten a lot :). So I have about 2 months to prepare for the exam, can't even guess what result I may expect.
Thank you for useful information on your website!"
"Hello!
First of all, thanks a lot for your professional support! It is very kind of you to share all those useful strategies!
Getting an English qualification has always been my dream. At the time I could go to the university, my parents asked me to follow the ---- and I couldn't have the strength to say no. I waisted my time learning something I didn't enjoy until about 10 years ago, when I returned to "my old love". And I have decided that this time, I will get right to the end!
Thanks a lot for your kind support!
Best regards"
"I always love learning new languages, but I need to have C1 qualification in order yo get a job. I would like to take my exam in June/July so I need much help, yet It is too expensive going to academies so I download all the free resources I could find."
"Hey, Rory! 
I am studying translation and interpreting and as you may know, English is the most important language if you want to become an interpreter. So I want to get an English language qualification (CAE exam as far as it's possible) in order to do an internship abroad next year. 
Thanks for your videos!"
"Hello, Rory. The main reason for getting an English qualification is that I would like to improve my job prospects and become more competitive as a specialist. I have noticed that many companies look for a person with official language certificate. And I am interested in CAE because it is a long term one."
"I want to get CAE qualification for work and I like learning languages. And I just like English. Actually I can make myself understood in English but make lots of mistakes. So my goal is to greatly improve my knowledge of English and make as few mistakes as possible. I'm not in a hurry. I understand that it takes time. I want to take that exam in a year or so. Thank you for your free video course. It's very interesting and useful.
With best wishes,"
"Hello, Rory.
I want to get an English language qualification in order to get new job prospects, to be more confident in English, perhaps to move to another contry and because I care of learning foreign languages.
Thanks for your instuctions and all information about CAE."
"Hi Rory,
I'm a young learners teacher at one of the Cambridge English center in ---. I will be sitting for the CAE exam this Dec. I'm very concerned and worried that I've not been practicing enough for the exam thus trying very hard to look for simple easy method to help."
"Yes, next year I'm going to do CELTA. It is not that CAE certificate is necessary, however it is highly welcomed."
"I am preparing the exam because I love English and in some aspect is difficult to me, so I takee the challenge to take the exam and try to understand the things that are difficult for me."
"I need to take a C1 level exam in English to teach CLIL."
"Sure, in order to polish my English language skills. Also, to be a better English teacher."
"I'd like to pass FCE exam for my future work in IT-company and for probable leaving to another country. I'd like to pass FCE exam on C1 level."